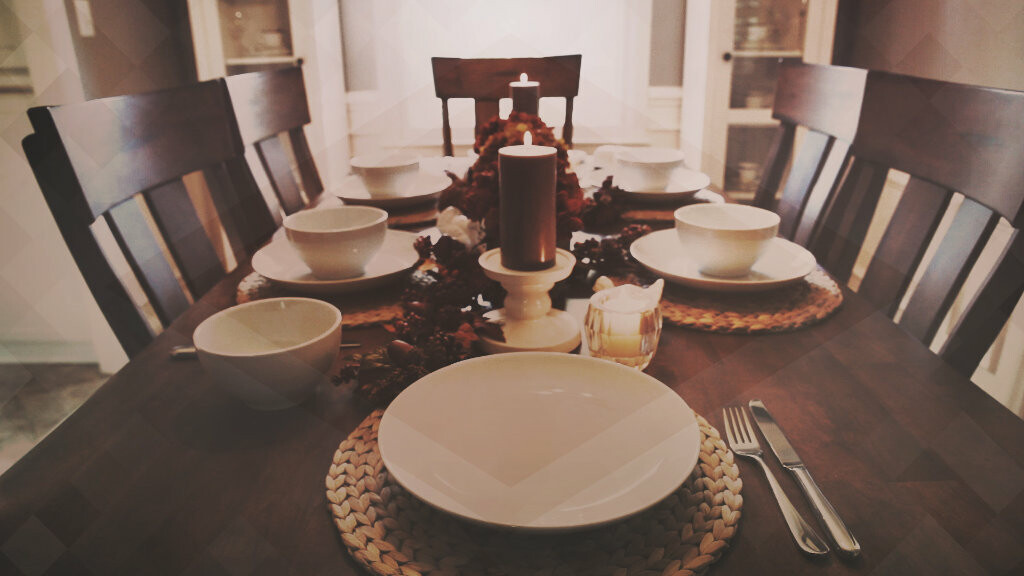 Thanksgiving Message of Hope and Gratitude
Your Community Church, the gathering of friends you know and friends you have not yet met, wish you a very happy day of Thanksgiving. Some of our tables will be quiet, just us, counting our blessings even as we've faced challenges this past year. Others among us gather with an extended circle of family or friends, the kind of reunion that looks like Hallmark yet may be marked by careful conversation in these wary times.
It can't be a surprise that we prefer different foods: turkey or ham, pumpkin or apple or pecan pie, green bean casserole or salad and brussels sprouts, homemade cranberry sauce, or slid straight from the can with the little ridges down the side. Your family may roast or grill or barbecue. Food matters, whether we spend the day in the kitchen ourselves or order a boxed lunch from the local grocer. When we break bread at Thanksgiving, we share with gratitude the simple abundance of daily bread, remembering those throughout the world who have none.
We marked the beginning of this week with our annual Thanksgiving Service, "Give Thanks". In the event that you haven't yet been inspired by it, you can watch it online on Community Church's facebook page or here. If there's any discouragement in your spirit, you won't want to miss it.
We experienced a moving welcome by Jewish shofar, the Christian bell choir, Native American flute, and the conch of the Kashi community, calling us to prayer. We prayed in Hebrew, English, Spanish, and the ancient languages of our Muslim, B'Hai and Hindu neighbors. The message by Crystal Bujol from the First Woman's Church in the City of Angels, inspired us to celebrate our distinct faith and practices, while recognizing that the God of all our practices is good, all the time.
We could have skipped all that and just invited our Baptist, Lutheran, Presbyterian, Roman Catholic, Latter Day Saints and Methodist neighbors, most of whom came. But we would have missed out on the joy of looking one another in the eye and expressing the authentic love and regard we've developed over time, among all those who look to the holy to bear peace to the world.
As faith leaders, we came from two dozen diverse communities who gathered with a mutual commitment to stand for, by and with one another in all things. When one of our communities rejoices, we all celebrate, when one suffers, we suffer together. Though our faith practices differ greatly from one another, we love and respect one another, sharing monthly meals, and engaging in mutual works in the community from time to time. This is what the kingdom of God looks like.
We concluded our Interfaith Thanksgiving worship by standing across the front of the chancel, holding hands and singing. Many of us shed tears, as we sang a hymn that evokes our greatest hope for our families, our nation and our world. If you know the tune, join me now in singing it, either in the imagination of your heart or out loud as prayer.
"Let there be peace on earth and let it begin with me; Let there be peace on earth, the peace that was meant to be. With God our creator, children all are we. Let us walk with each other in perfect harmony. Let peace begin with me; let this be the moment now. With every step I take, let this be my solemn vow. To take each moment and live each moment in peace eternally. Let there be peace on earth, and let it begin with me."
May it be so. Happy Thanksgiving.
A Table Prayer
Thank you God, for all your precious gifts. O God, when I have food, help me remember the hungry; when I have meaningful work or volunteer opportunities, help me to remember the jobless; when I have a comfortable home, help me to remember the homeless; when I am without pain, help me to remember those who suffer. When I am tempted to blame others for my sorrow or the state of the world, stir my own heart to kindness and compassion. For walking with me through the struggles of this past year, I give you thanks. For the bread we break and the love we share, thank you God. In Christ's name we pray, amen.
God's grace, mercy and peace be with you,
Rev. Dr. Anna V. Copeland
Senior Minister, The Community Church of Vero Beach