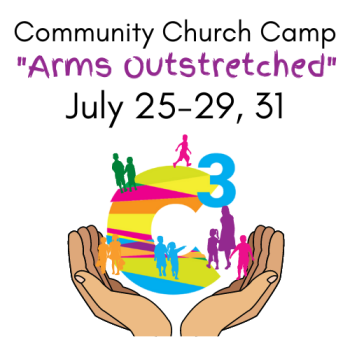 Ages: 5-10
Dates: July 25-29, 9 AM to 2 PM
Family Presentation: July 30 at 1 PM
Church Presentation: August 1 during 10:15 worship
Camp fee: $50 per camper
Camp includes: Daily faith-based lesson, daily workshops in the fine arts, snacks, and moments for mission.
We encourage campers to bring a bag lunch.
Music, Fine Arts, & Mission" and welcomes children ages 5-10 for a week of painting, music, movement, missions, bible stories, and more! Camp is from 9:00 a.m. to 2:00 p.m. Monday-Friday and will include a Gallery Show and presentation in worship on Sunday, July 31 in the Sanctuary. Look for registration forms in the Church Office, Narthex, and kiosk in Community Hall or register online beginning on Sunday, May 1. Spaces are limited and registration will be open until all spots are filled. Camp Fee is $50.00 per camper for the week. (Need-based scholarships are available.) Please contact Rachel Murphy at 772-469-2320 or Lia Peters at 772-469-2333 for more information, or to volunteer during this exciting week!
Camp Registration
Download the C3 Camp Registration Packet by clicking below! Or fill out the form below the download button to register online!