We have a wide variety of ways to worship our God. From weekly worship to rites and sacraments.
Click below for more information.
Sanctuary and Chapel Worship
We gather together to worship God and then scatter to serve in Christ's name. Join us for our newest worship experience, Jazz Vespers in the Courtyard, monthly throughout the year. Weekly Worship services include:
Grace Chapel Worship
We share inspiring, biblical messages, warm fellowship and committed faith through the liturgical traditions of the Church, featuring the Chapel Choir in an intimate space and style.
Sanctuary Worship – livestreamed
We celebrate the great liturgical traditions of the church, including Chancel Choir and pipe organ in a vibrant spirit. Additional services are held for special seasonal holidays and other occasions of significance in the life of the church.
C2 Worship
We gather together to worship God and then scatter to serve in Christ's name. C2 Worship builds on the emerging worship practices of the church, including multi-media, praise band, and an exuberant style. Informal, Intergenerational Worship meets in our amped up Community Hall.
Communion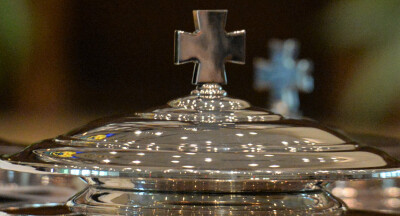 "When Jesus was at table with them, he took bread, blessed and broke it, and gave it to them. Then their eyes were opened, and they recognized him." - Luke 24:30-31
Here at Community Church, we celebrate the sacrament of an open communion. We welcome anyone to this table who desires to share in Jesus' life. You don't have to believe or do all the right things, and you don't have to have all the answers. We are all invited to God's family table who wish to know more deeply the presence of Christ through the breaking of the bread.
We celebrate the sacrament of communion on the first Sundays of the month, and at special worship services throughout the year. We invite participants who worship with us via live-stream to create a worship space at home, by gathering a bit of bread or cracker, and a bit of juice or wine. All will be blessed and shared together. Whether gathered or scattered as a community, we are one body through Christ.
Baptism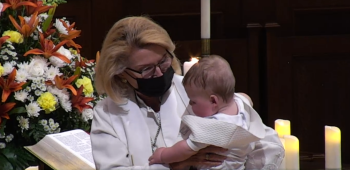 "For in Christ you are all children of God through faith." - Galatians 3:26
The sacrament of baptism is an outward and visible sign of the grace of God. Through baptism as person is joined with the universal church, the body of Christ. In baptism, God works in us the power of forgiveness, the renewal of the spirit, and the knowledge of the call to be God's people always.
Baptism with water and the Holy Spirit marks the beginning of a new life in Christ, as followers of the Way of Jesus. In the United Church of Christ, baptism is a gift from God for people of all ages, infant through adult. Parents may present their infants or children from baptism, promising to raise and nurture them in Christian faith until such day that they grow to confirm their faith and their baptism as their own. Older children, youth and adults may seek baptism as initiation into full acceptance and care of Christ's church, and as a sign of God's grace and forgiveness.
The sacrament of baptism is recognized across all Christian traditions, and is a once in a lifetime initiation, like adoption. Those who are baptized may choose to re-new their baptismal vows, on the occasion of confirmation or when joining a new church, and some choose to re-confirm vows in special circumstances, such as on a visit to the Holy Land.
Baptism is both a personal and a communal event, as the gathered church promises to pray for and support the newly baptized. Thus, baptisms take place within the public worship services of the church.
In cases of grave illness, baptism may take place in a home or hospital. And upon request, baptism may be performed by immersion at a local body of water in the presence of Deacons or representatives of the church.
Funerals
Our church family seeks to compassionately support those who have experienced the death of a loved one. Please notify the church office at 772-562-3633 for pastoral care and support when your loved one is gravely ill, or at the time of death. Clergy will meet with you to provide comfort and prayer, and to support your plans for a memorial service at church, graveside or in our memorial garden.
Every funeral or memorial service is a celebration of the life of the individual and the eternal promise of the loving grace of God for all people. Services will be arranged with the goal of providing sacred comfort, honor, respect and hope for all those participating.
Grace Chapel will seat up to 180 people, while the Sanctuary will seat nearly 1,000 people. Both settings support a variety of music, including organ and piano. All music is coordinated with clergy and our Director for Music and the Arts.
Please contact the church office for more information, and a copy of our brochure, "Services of Celebration and Remembrance: Ministry at the Time of Death", may be provided. Community Church is committed to helping you celebrate the life of your loved one with gratitude for their life, and for the precious gifts God.